The sadness of truth
A love song

Written and played by Guido Kämmerling

Vocals by Lea Krings

Audio engineering by André Maletz

Produced by The Guido K. Group

© Copyright 2020. All rights reserved.

Listen via Soundcloud
Listen via hearthis.at
The Original version
The sadness of truth
on youtube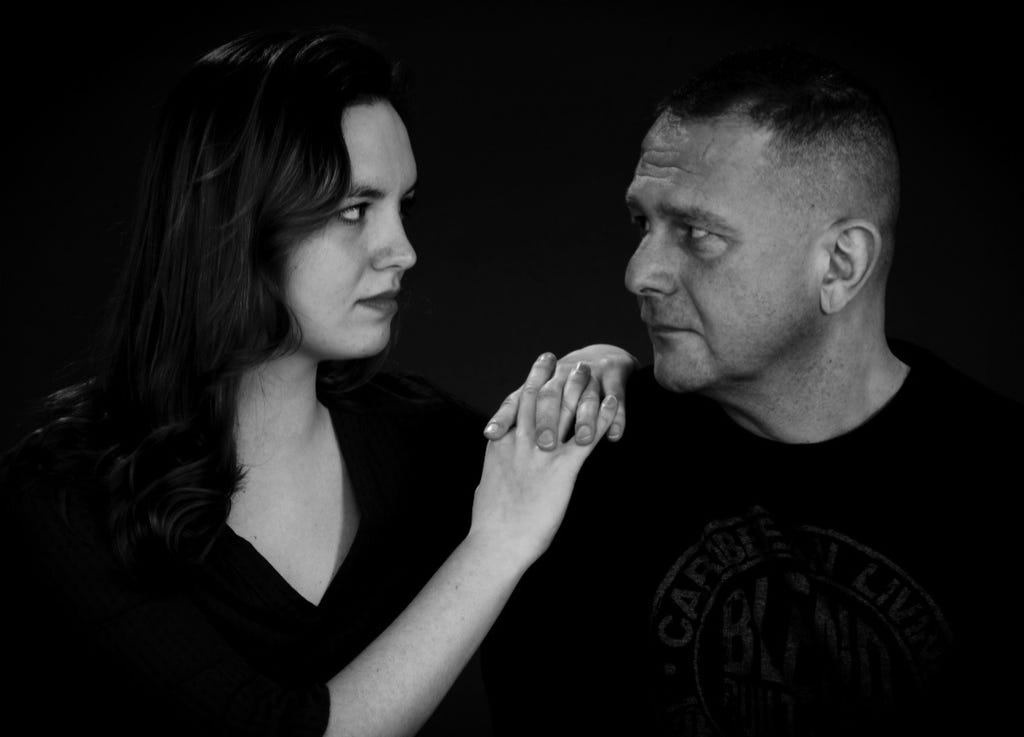 The lyrics
Dear, Mr. Right, you are to young
now you learn to fly
things, that I've just done

You said you always loved me too
but now, you don't know who

Walking thru the fields we so often passed
hold me in your arms
when we joked and laughed

Pretending you always loved me too
Now someone else is loving you
and that's the sadness of truth

Love hurts, love cries
Love burns inside

Twenty years apart, they have passed me by
We can't change a thing, no matter if we try

You said, you always loved me too
And now someone else is loving you
How could I be so blind?

Have to learn to let you go
There's a hole, a hole in my soul
And that's you and the sadness of truth
Have I ever meant something to you?

You said you want me, you want me too
We both know, that's your point of view
Now someone else is loving you
And there is nothing left to do
Now she's really in love with you
And finally, you love her too

Love hurts, love cries
Love burns, … sometimes

But someday I'll get thru
And then it's the sadness of you.

.... of you.





© Copyright 2020
Guido Kämmerling, The Guido K. Group
All rights reserved.
Protected by priormart.com
Distributed by Spinnup.com


Original Song:
UPC: 8719729814028
ISRC: NL1AP2026635

Remix Version:
UPC: 8719729884526
ISRC: NL1AP2043957
Lea Krings recording her vocal parts of "The Sadness" project.
Lea and Guido listening carefully to the recorded audio files at The Guido K. Studio in Langerwehe.
Played on Yamaha Grand Pianos.
Audio Engineer André Maletz (Mixing Ambulance) at work.


The composer listening to the work, he wrote.
André Maletz, Lea Krings & Guido Kämmerling
during recording sessions at
The Guido K. Studio, Langerwehe.
ein love song aus dem kreis düren
Guido Kämmerling und Lea Krings gelingt ein einfühlsames musikalisches Werk

Nicht nur in den USA oder in Großbritannien werden Love Songs geschrieben. Sie können auch aus dem Kreis Düren stammen, wie Musikschaffende aus Langerwehe und Düren nun gezeigt haben. Diese konnten sich kürzlich über das Ergebnis eines kreativen Prozesses freuen, als sie mit dem Song "The Sadness of Truth" ihre zweite musikalische Zusammenarbeit fertiggestellt haben.

Die Aufnahmen sind beendet, eine CD ist in Vorbereitung, das Cover gestaltet und der Song wurde nunmehr auch online gestellt. Es wurde ein Lied über verlorene Lieben und Illusionen, über Traurigkeit und Erinnerungen, aber auch über Hoffnung und Zuversicht. Text und Musik dieses einfühlsamen Songs wurden geschrieben von dem Pianisten und Komponisten Guido Kämmerling aus Langerwehe. Eingesungen wurde das Lied von der Dürener Sängerin Lea Krings, die heute in Köln lebt und die mit ihrer tief timbrierten und warmen Stimme dem Song die richtige Seele verliehen hat.
Begonnen hatte alles damit, dass der Multiinstrumentalist und Soundtüftler Guido Kämmerling, der normalerweise in den Bereichen von Jazz, Fusion, Ambient Music und Electro musikalisch unterwegs ist, einen Rock Song mit Text komponiert hatte und hierfür eine Sängerin suchte. Auf einem Chor- und Gospelkonzert im Kreis Düren hörte er ein Jahr zuvor zufällig den Sologesang von Lea Krings, die ihn sofort begeistert hat. Er kontaktierte sie und stellte ihr den Song vor, der ihr spontan zusagte und dann in das Erstwerk "Coming Out" mündete.
Ende des vergangenen Jahres schrieb Guido Kämmerling dann mit "The Sadness of Truth" einen stilistisch völlig anderen, nämlich einen melancholischen und zerbrechlichen Song, der mit seiner reduzierten Besetzung (Piano und Vocals) und seinem emotionalen Text über die "Traurigkeit der Wahrheit" einen intensiven Höreindruck hinterlässt und Menschen in ihrem Innersten erreichen kann, wenn sie sich in einem solchen Lied wiederfinden können. Der Song wurde hierzu zunächst in Langerwehe im Musikstudio von Guido Kämmerling aufgenommen. Dabei waren hochwertige Mikrophon-Hardware und eine moderne Digital Audio Workstation (DAW) im Einsatz, wie sie auch bei professionellen Musikproduktionen oder bei Filmkomponisten verwendet werden. Anschließend wurde der Song im Kölner Musikstudio von André Maletz (Mixing Ambulance) unter professionellen Bedingungen gemischt und endbearbeitet.
Voll Freude und Dankbarkeit über das Ergebnis dieser außergewöhnlichen musikalischen Zusammenarbeit konnten die Musiker nunmehr das hörbare Resultat auf verschiedenen Online Plattformen im Internet wie YouTube, Facebook oder Soundcloud veröffentlichen. Zudem soll der Song über Spinnup, die zur Universal Music Gruppe zählt, auch online vertrieben werden. Die Musiker würden sich natürlich sehr darüber freuen, wenn der Song nun auch von Radiostationen gespielt würde und dadurch einen höheren Bekanntheitsgrad erreichte.

Neben dem Original Song wurde im Mai 2020 nun auch eine Pop-Version als Remix veröffentlicht.

Die Musik wird bleiben.
A love song from district düren
Guido Kämmerling and Lea Krings succeed in a sensitive musical work

Love Songs are not only written in the USA or Great Britain. They can also come from the district Düren in Germany, as musicians from Langerwehe and Düren have now shown. They recently enjoyed the result of a creative process when they finished their second musical collaboration with the song "The Sadness of Truth".

The recordings are finished, a CD is in preparation, the cover has been designed and the song has now been put online. It became a song about lost loved ones and illusions, about sadness and memories, but also about hope and confidence. The lyrics and music of this sensitive song were written by the pianist and composer Guido Kämmerling from Langerwehe. The song was sung by the singer Lea Krings, who now lives in Cologne and who gave the song the right soul with her deeply timbred and warm voice.

It all started when multi-instrumentalist and soundcreator Guido Kämmerling, who normally travels musically in the areas of jazz, fusion, ambient music and electro, composed a rock song with lyrics and was looking for a singer to sing it. At a concert of choir and gospel in the district of Düren, he heard Lea Krings' solo singing, which immediately impressed him. He contacted her and introduced her to the song, which she liked spontaneously and then culminated in the first work "Coming Out".

At the end of last year, Guido Kämmerling wrote "The Sadness of Truth", a stylistically completely different one, namely a melancholic and fragile song, which - with its reduced instrumentation (piano and vocals) and its emotional text - can reach people at hearts, if they can find themselves in such a song.

First, the song was recorded in Langerwehe in the music studio of Guido Kämmerling. High-quality microphone hardware and a modern digital audio workstation (DAW) were used, which are also used in professional music productions or by film composers. Then the song was mixed and finished in a Cologne music studio by André Maletz (from Mixing Ambulance) under professional conditions.

Full of joy and gratitude for the result of this extraordinary musical collaboration, the musicians were now able to publish the audible result on various online platforms on the Internet such as YouTube, Facebook or Soundcloud. In addition, the song will also be distributed online via Spinnup, that belongs to the Universal Music Group. Of course, the musicians would be very happy if the song would be played by radio stations and thus achieved a higher level of awareness.

In addition to the original song, a pop version was also released as a remix in May 2020.

The music will remain.